An important victory over a league newcomer
05.08.2019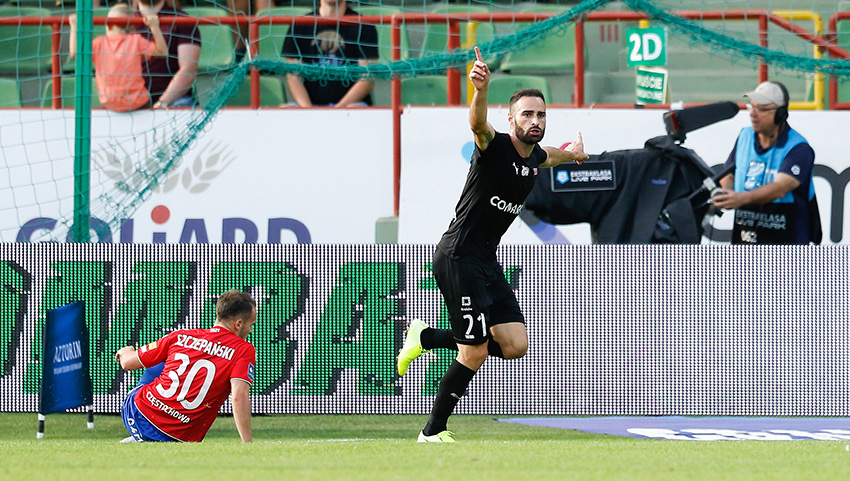 In the third series of league games we come up with the first victory of the season! Three goals of Pasy has been replied with only one scored by a newcomer from Częstochowa.
The ball has found its way into the Rakóws net after shots from Hanca, Lopes and Râpă. The only one goal for our rival was scored by Felicio Brown Forbes.
Another occasion to earn three more points comes to us next Sunday! We meet Korona Kielce on our home ground at Józefa Kałuży Street. The match begins at 5:30 p.m.
Raków Częstochowa - Cracovia 1:3 (1:2)
0:1 - Hanca 8
1:1 - Brown Forbes 19
1:2 - Lopes 45
1:3 - Râpă 56
Raków: Gliwa - Kasperkiewicz, Petrášek, Azemović (80 Skóraś) - Kun, Sapała (90+5 Musiolik), Schwarz (67 Nouvier), Szymonowicz - Luković, Szczepański - Brown Forbes
Cracovia: Peškovič - Siplak (67 Piszczek), Jablonský, Dytiatiev, Râpă - Gol, Hanca (87 Dimun), van Amersfoort, Lusiusz (87 Pestka), Wdowiak - Lopes
Booked: Nouvier, Kasperkiewicz - Hanca, Jablonský
Referee: Paweł Raczkowski (Warsaw)